Port Graham Ethnobotany Web Page Project
and the
Traditional Knowledge and Gathering of Local Plant Lore Project
The Port Graham Village Council (PGVC) realizes the importance and value of nutritional and medicinal plants and the need to preserve the traditional subsistence knowledge of such local plants for youth and future generations.
A recent Chugachmiut Regional Health Survey had presented a question to 5 Regional Communities;"What big health threat do you consider to be in your community?" The following are among the top six:
1) Obesity at 61.7%
2) Lack of Exercise at 59.4% and
3) Poor Nutrition at 51.6%
Recommendations were:
1) Elders; they have knowledge, wisdom and experience to pass on to our youth.
2) Youth; they are our future and efforts are being made to ultimately improve their lives through teaching traditional and better lifestyle practices and
3) Activities; they bring our community together; there is an overwhelming need for the organization of activities in the village, to facilitate the gathering of our people, to teach our traditional & cultural way of life.
Results: The survey results could be related to a variety of causes but can be turned around through 3 healthier practices:
1) Exercise; getting outdoors to gather these seasonal plants which start early spring and lasting into late fall, this provides the perfect opportunity for outdoor activities while gathering the traditional land and marine vegetation unique to our area.
2) Knowledge; teaching our traditional practices of gathering our local plant lore, teaching the when and where to gather, teaching the uses and in some cases the multiple uses from one plant, along with the many different preserving options and finally the nutritional & medicinal benefits.
3) Documentation; our culture has passed down the processes of subsistence from generation to generation for many years.
Our Hope: With this project we hope to capture our rich traditional practices with elders sharing their Traditional Elder Knowledge (TEK) with youth. We hope the youth learn these practices by interviewing, documenting and developing a modern way to share and preserve this knowledge. With the development of this interactive web-page combined into our existing council website; portgraham.org, we hope to provide and share valuable information of our local plant lore and the nutritional, medicinal, and holistic benefits as well as the gathering, preserving processes and the many uses that can be shared and utilized from generation to generation to continue a healthier life choice while keeping our rich culture and traditions.
With support from the ANF and Chugachmiut Heritage Mini-Grant Program, PGVC utilized modern technology to document TEK. This project will preserve the traditional subsistence knowledge for the harvesting of nutritional and medicinal plants and promote the lasting conservation of these plants and the stewardship of other subsistence species important to PGVC.
Expected outcomes for this project include an increase understanding of our cultural and traditional subsistence practices, from when and where to gather, the gathering processes including the proper gathering techniques to ensure future harvests for future generations and the many different uses and preserving methods as well as the nutritional and medicinal benefits. Another expected outcome is our youth's invaluable time spent with our elders sharing their TEK, listening, learning and documenting stories of our traditional subsistence practices as well as the hands on experience while participating in the gathering of our unique seasonal plant lore while learning the aspect of taking only what is needed to insure future subsistence which has been done traditionally from generation to generation. The final outcome of this project will be the completion of the Port Graham Ethnobotany Interactive Web Page developed by our local youths talents in technology combined with our elders TEK to provide another unique and updated form of communication that will have long term benefits within our community, region and beyond in sharing our cultural and traditional practices. Sustainability of this project will be ongoing through the subsistence of marine and land plant lore from early spring to late fall in that community members will have access to the Port Graham Ethnobotany Interactive Web Page to utilize information gathered from our local elders through TEK sharing with our youth, community and abroad. The Port Graham Village Council has direct contact with the webmaster provide any ongoing maintenance or updating information as needed.
Alaska Native Fund is Advancing Alaska Native Priorities for Protecting the Land and Sustaining Our Ways of Life
Alaska Conservation Foundations' Alaska Native Fund (ANF) awarded sixteen grants for indigenous environmental priorities addressing food security, sustainable economies, holistic wellness, energy, and climate change issues in Alaska. Port Graham Village Council is pleased to have been chosen as one of the 2014 Alaska Native Fund grant recipients.
Chugachmiut Heritage Mini-Grant Program is A Program to Support Tribal Cultural Projects
The Chugachmiut Board of Directors has made grant monies available for tribes to develop and submit community-based applications to fund activities that have a cultural or heritage themed concept. This is an annual grant program that is announced in July every year as long as funds are available.
~~~
Port Graham is a small community located in south-central Alaska overlooking Cook Inlet. It is predominately of Alutiiq (Aleut) heritage, comprising approximately 85 percent of the community.
The Port Graham Village Council is a federally recognized Tribe that serves the Alutiiq people of Port Graham, Alaska. We have a traditional tribal council that operates a variety of social, cultural, community and economic development programs designed to enhance the quality of life within Port Graham.
~~~
Thank you!
The Native Village of Port Graham "Ethnobotany Project" was made possible by the following…

Alaska Conservation Foundation (ACF), in partnership with an Alaska Native Steering Committee, launched the Alaska Native Fund in 2011 to advance Alaska Native priorities for protecting our land and sustaining our ways of life.  The fund provides an Indigenous framework for impacting critical environmental issues while promoting innovative strategies to strengthen the capacity of Alaska Native organizations and communities.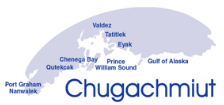 Chugachmiut Heritage Mini-Grant Program is a program to
Support Tribal Cultural Projects
Chugachmiut is the Tribal consortium created to promote self-determination to the seven Native communities of the Chugach Region. We provide health and social services, education and training, and technical assistance to the Chugach Native people in a way which is acceptable to Native cultural values and tradition in order to enhance the well-being of our people by continuing to strengthen the tribes and increase self-determination opportunities for community operated tribal programs.